Let's head to Xilitla, a municipality located in a state of Mexico called San Luis Potosi.
It is about 415 square kilometers and has a population of 50 thousand people, 6 thousand of whom lived inside the Xilitla town. This nature masterpiece is a place known for its refreshing springs and breathtaking mountains, but most importantly, Las Pozas.

© Photo Credits: holidayfromwhere.com
Las Pozas (in English means "the pools") is a surreal group of concrete structures built by the British artist Eduard James. Standing at about 2000 feet above the sea level, in the middle of Mexico's subtropical rainforests, the garden is a mixture of natural waterfalls, pools and the surrealistic sculptures. In a few words it is a real life paradise.
The early 1940's, Eduard was travelling around to find a place where his idea could take place. He saw many places but still nothing was fulfilling all the requirements that he had in his mind. The artist kept looking for the proper place to land his dream until in 1945 he went to Mexico and found Xilitla. By far it was the most romantic and less populated from all the other places he had explored.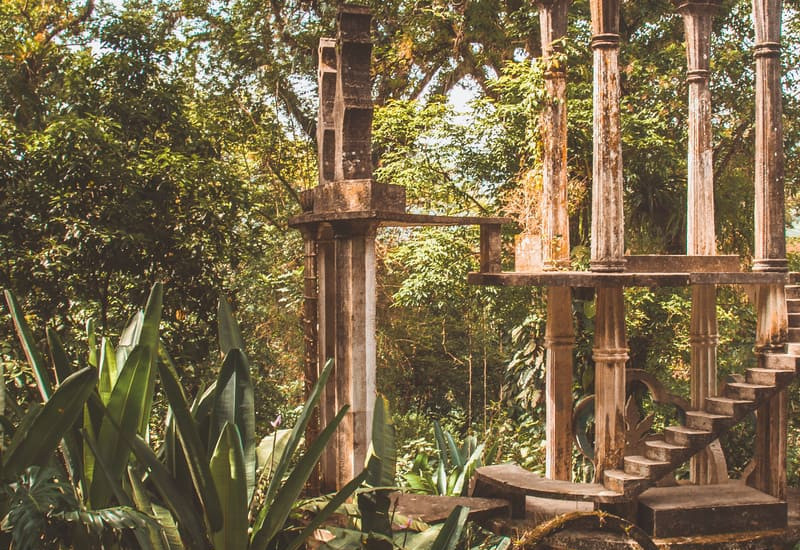 © Photo Credits: onceuponajrny.com
Along with his guide, Plutarco Gastelum, he started putting in the work to create his vision. From 1949 until 1984, Eduard James built a variety of concrete structures some of which were named as The Staircase to Heaven, The House with a Roof like a Whale and many others. But it wasn't just concrete… Besides the concrete constructions there was also a magical combination of flowers and plants, the garden was made of beds of flowers, tropical plants and also orchids…lots of orchids. It is said that Las Pozas has about 29 thousand orchids inside. Exotic animals from all over the world lived in there since Eduard was a fan himself.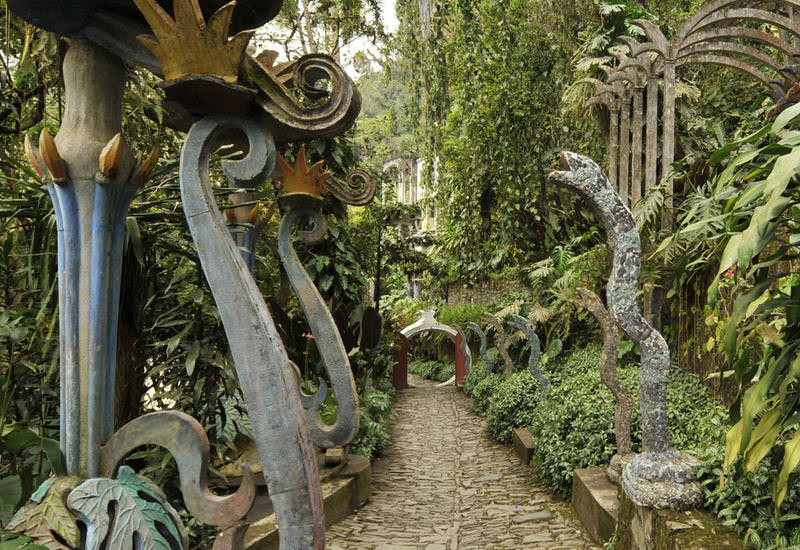 © Photo Credits: wmf.org
With all this life inside, the garden is about 80 acres. Its big right?! But the artist thought of that too and built many trails along the place. They are composed of steps, bridges, ramps and winding walkways. If you are wondering about the costs of this place, here is the most inspiring thing when it comes to following dreams.
The whole place was estimated to have constructions costs of 5 million $. This amount of money, sir James was able to collect by selling all of his surrealist artworks and compositions at auctions. Later in the summer of 2007, 2.2 million $ were paid for Las Pozas and a foundation was created in order to take care of things like preservating and restoring the place.
Nowdays the site is opened for the public by the foundation and the way to get there is mostly by car. If you don't have one you can grab the bus that runs hourly at Y Griega.